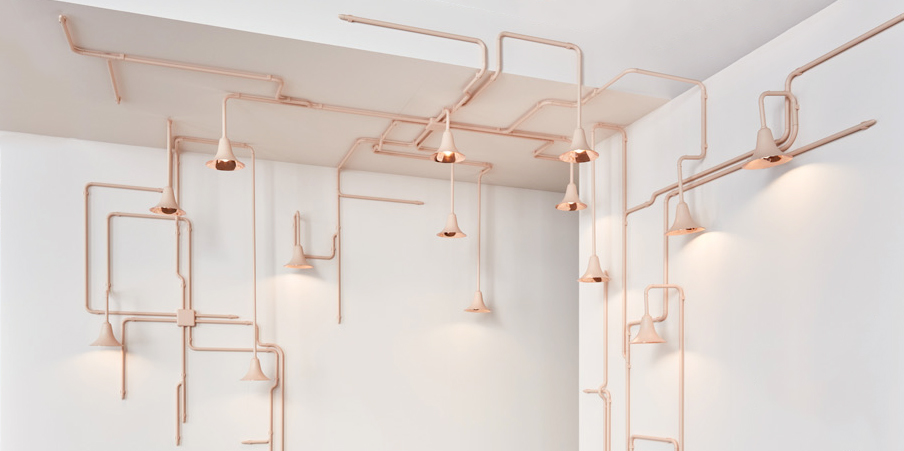 2010 | Beyond obstacles and differences in height, over beams and corners, across walls and ceilings: Light Forest crawls into places that other lighting cannot reach. The system's organic shapes branch out in every space, its bells shedding light in the darkness. Smalland geometric or large and chaotic: Light Forest thrives in any space and is made to measure. Light Forest is a highly adaptable wall and ceiling lamp system that can be configured in multiple ways, and which can vary in expression from organic and whimsical, to geometric and austere. Its branches are made from extruded aluminium tubes — strong and light — and the lampshades or flowers are spun from copper or brass, which lends a warm glow to the light source. The entire system is coated with matte lacquer, giving it an aesthetic that can be both industrial and organic, both austere and whimsical, depending on its configuration.
Please take a look on the APTUM website for more information and projects.
For a tailor-made proposal, send us a email:Â info@aptumlighting.com
Specifications –Â Light Forest – Custom made
Material Lacquered copper or brass, aluminium and ABS
Color almost all colors are possible, pantone | NCS | sigma | RAL
Technical Spec. E27 Max 35 Watt
Light point from 5 and up

October 2019 – ONTWERPDUO launches new brand:  APTUM.
Aptum is a lighting company that offers a complete service to clients, interior designers and architects, art directors and experts from other fields, in the design, manufacture and installation of custom-made lighting in unlimited configurations for the residential, hospitality and commercial sector. The light installations can vary in terms of expression from colorful and chaotic to sober and geometric and stir a sense of wonder, excitement and magic. Light Forest is part of the Aptum collection. More information you find on the Aptum website.